It started when I booked an order for Red Ribbon Cakes by Design at Jupiter St. Makati City. First and foremost I have nothing against the company or any of its employees. So here goes my story, I ordered a cake last February 1, 2011. It was a picture cake; boiled icing and the design on the sides of the cake were like christening a baby. Anyway, that is not my problem; all I just wanted was our picture to be there in the cake, no more, no less.
So the event of which our wedding anniversary is scheduled on Feb. 15, 2011 so there is ample time to prepare the cake. At that time I was thinking of another design, but when I happen to see the picture cake, I liked it but the problem was I don't have my USB along with me so that I can give it to the person in charge. But she assured me that it's okay since they will give me the email address on where I can send the picture which is 5r in size to match the cake.
Anyway I emailed them the picture the night I have ordered and paid the cake. I was busy minding other things before our wedding anniversary so I don't have time to check emails. But even if I do have spare time, I see to it that I can open my gmail to see if there will be any news about my cake and I suppose everything was all right. Now the time came when my hubby arrived as well as my mother in law so I got so busy doing errands and touring them Philippines particularly the spots near our place where I can roam them to enjoy the view. This lady from Red Ribbon a day before our BIG EVENT called the house to inform me that they did not receive my picture via email.
Strange since I have a carbon copy of that email to my hubby and yet he received it, but I don't know on their part on why they didn't get the email. Next question is they keep on calling the "kasambahay"(helper) we have who idea at all in the cake that I ordered. In short the cut off to create the cake I wanted never happened since they didn't have my so called picture.
The employee already said sorry so I accepted it but I told her that I need to ask for a full refund since my cake will just be a plain cake with only names and wedding greetings on it and again with silly designs on the side. The lady say that they can refund my money in whatever date I wanted to drop by their shop so I ended the conversation thinking that we will never have our cake on our big day. I was really disappointed since I know that Red Ribbon service was fine and they have the best cake ever.
The following day, our wedding anniversary, I was surprise that someone from Red Ribbon called me. But 2 minutes before that call, Red Ribbon delivery came into our house and delivered the cake that I really don't wanted but since they are already there, I didn't make it a big issue so I already accepted the sorry cake. Now the employee called me to say sorry again because by the time they have informed their delivery to be cancelled, the truck went already so in short, Red Ribbon has a big problem in coordinating their delivery and confirming their customer if they have a problem with the cake.
I don't like to spoil my big day with just that so I didn't think of it at all. But every time I see our cake, me and hubby just have a laugh on it, good thing the cake still taste good which is by the way mocha flavored boiled icing. What will you do if you are in my shoes?
We just added a mini Cake Topper and inverted the Red Ribbon tag on that cake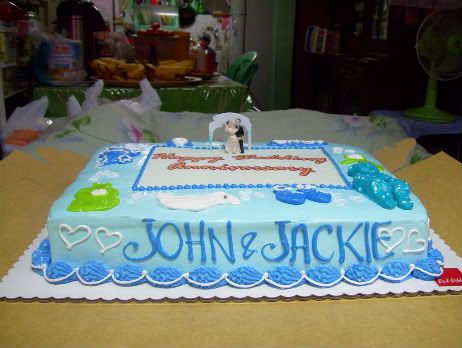 Top View of the Cake, what a design..