We had our Marriage Renewal of Vows last month of February 15. It was our fourth wedding anniversary and it was really a wonderful experience. Simple as possible and we didn't have to stress out on the preparations since we have the help of our family. It was a simple and private event. We invited only close family friends and relatives. Marriage renewal of vows is done mostly by Christian families in which the vows are again recommitted before God.
I just wore a simple off-white Chudidar suit and hubby wore his business attire outfit. I also wore the jewelries that my in-laws gave me and it was really a good match with my dress. The day was sunny and all inside the house were happy to see us as we begin the program.
We had our wedding in Civil and so we decided to take our marriage renewal of vows officiated by our dear Pastor and our family is there to witness it. I felt complete unlike before when we had our union in Civil since we didn't have any souvenir photos at the hall because they forbid it in India. Anyway, what is important is that we as a couple had renewed our commitment to each other with God as our witness and the one who blessed us in our relationship.
By the way the program lasted for only 30 minutes and the rest was followed by cake cutting, wine toast as food is served before the guest. We ended around past 5pm already and all seemed happy and enjoyed the food which my hubby and mother-in-law prepared to cook. We had Chicken biryani at that time paired with watermelon fruit, some banana and fruit salad for dessert. Of course the lovely cake was shared to everyone and no one left the house without tasting it.
God is love and He alone is the author of our lives. We as a Christian must also be ready to prepare ourselves to meet the bridegroom which is Jesus Christ. We must be found blameless and spotless. This is how beautiful God represents the importance of marriage and the sanctity of it.
Cutting the Wedding Cake

Sharing the Cake to Each Other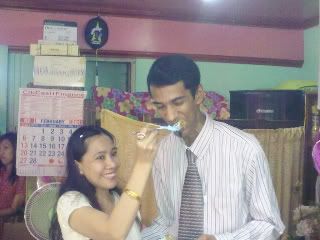 My Beloved and I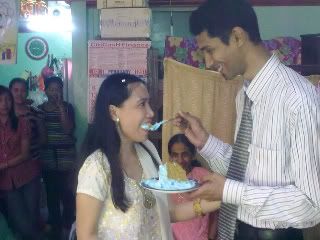 For four long years we have been living as husband and wife, it is just timely that God has blessed us with our very first baby. I am now conceiving our very first baby and I am so thankful to God for the blessing that He has given me and my hubby. Truly All things work together for good to them that love God and are called according to His purpose (Romans 8:28).